Ethiopia
Background and news
Since November 2020, the Tigray region, located in the far north of Ethiopia on the border with Eritrea, has been in the grip of an extremely violent conflict. For months, the province has been cut off from the world and even today entire areas remain inaccessible to humanitarian actors who are hampered in their operations.
As a reminder, on 4 November 2020, the Ethiopian government launched an armed offensive to overthrow the Tigray People's Liberation Front (TPLF), which was accused of having attacked federal army bases. Later, on 28 November, the Ethiopian government announced the capture of Mekele, capital of the Tigray region. Seven months later, the violence continues and the humanitarian situation is deteriorating. The worst atrocities and abuses have been committed by the parties to the conflict. UNICEF denounced multiple and systematic cases of rape and sexual violence.
The human toll is terrible: thousands of people have been killed and wounded and hundreds of thousands have been displaced inside and outside the country (more than 63,000 refugees in neighbouring Sudan). 5.2 million people are in need of humanitarian assistance, primarily for emergency shelter, water, food and health care. While many health facilities have been destroyed, those that remain operational are facing a shortage of equipment and medicines. Women and children are increasingly vulnerable.
Food insecurity is particularly alarming in this region where agricultural land has been destroyed and crops have been lost. According to the UN, at least 20% of the population is now facing urgent food insecurity and cases of severe acute malnutrition among children are increasing. The region has been on the verge of famine for several months.
An estimated 25% of schools have been destroyed or damaged by the fighting. For over a year, 1.4 million children have been out of school. Firstly, because of the Covid-19 pandemic and secondly, because of the conflict.  Schools are now closed and many of them are used as emergency camps for the displaced who continue to pour in and countless children are forced to beg.
(Sources : ONU Info, OCHA, Unicef)
SOS Children's Villages in Ethiopia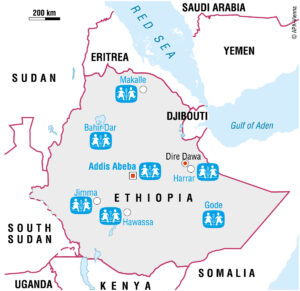 Present in the country since the early 1970s, SOS Children's Villages Ethiopia supports more than 40,000 children, adolescents and adults through its infrastructures (7 SOS Children's Villages) and its programmes to strengthen families, education and health. In addition, the association regularly intervenes in emergency situations to support vulnerable communities facing recurrent drought and food insecurity.
In the Tigray region, Mekele, the association has been active since 1976, where it runs an alternative care programme (with a children's village and youth centre for over 200 children and adolescents in 2020) and a family strengthening programme (for over 2,600 young people in 2020). In March 2021, it started an emergency aid project focusing on health, nutrition, and WASH (water, sanitation and hygiene) for communities affected by the conflict. More than 25,000 people including 15,000 women and girls are affected by the project, which is being implemented in Mekele and several woredas (districts) in the south of the region.
Aucun élément correspondant n'a été trouvé