Colombia / Venezuela
Context and news
The serious political, economic and social crisis that has been raging for years in Venezuela is having a strong impact on the daily life of the population. The humanitarian situation has become dramatic. Hyperinflation, food and medicine shortages, the collapse of social programmes, insecurity… are pushing hundreds of thousands of people into exile. Since 2015, more than 5 million people (out of a population of 29 million) have fled to neighbouring countries (Colombia, Peru, Chile, Ecuador, etc.), and even beyond. Thousands more have continued to cross the border every day to buy food, to look for work or to seek a medical treatment.
According to the Colombian immigration office, more than 1.8 million Venezuelans were living in Colombia at the end of 2019. The regions of La Guajira in the north, Santander in the centre and Nariño in the south have a very high concentration of migrants from Venezuela. The challenges are immense, both for the migrants and for the most vulnerable host populations in this country where there is almost no social support.
In 2020, the Covid-19 crisis hit Colombia very hard. Between January and October, the pandemic was the main cause of death. Unemployment reached a desolate record high (25%) and twice as many women lost their jobs. In March, the Colombian government implemented drastic measures (general containment, closing of borders, etc.) to combat the spread of the virus.
The situation and living conditions of Venezuelan migrant families in Colombia deteriorated rapidly. Many lost their means of subsistence, numerous people in an irregular situation were expelled, and others tried to return to their native country. In Colombia, migrants, often not regularised, are denied access to the health system.
SOS Children's Villages in Colombia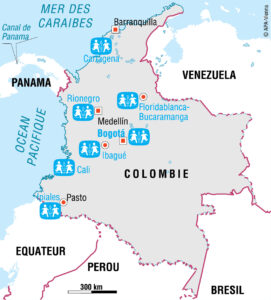 SOS Children's Villages Colombia has been active since 1971, helping approximately 9,000 young people and adults through its facilities (e.g. 7 SOS Children's Villages) in the four corners of the country, from Cartagena in the north to Ipiales in the south, via Bogotá. In addition to its alternative care programmes for children who find themselves alone, the association works to strengthen communities, empower families and optimise the employability of young people. It manages emergency aid after natural disasters, such as in 2017 in Mocoa following the deadly mudslides (more than 200 children and 60 families supported through psychosocial support and community actions).
SOS Children's Villages Colombia has been working with Venezuelan refugees and migrants since 2018. It supports migrants on the road, helps unaccompanied minors and homeless families, protects children and adolescents from violence and prevents family separation.
Aucun élément correspondant n'a été trouvé