Central African Republic
Background and News
The Central African Republic (CAR) has been experiencing a devastating civil war since 2013, ranked as the third largest humanitarian crisis in the world after Yemen and Syria. As in most conflicts, children there are victims of the most horrific forms of abuse, neglect, exploitation, violence and lack of access to basic services.
The many upheavals in the country have had a negative impact on the education and training sector: some schools have been used as fallback bases for combatants, leading to their closure. This has affected some 378 schools, depriving more than 799,000 pupils of their right to education. In addition, the school system is under-equipped, understaffed and insecure.
Young people are particularly affected by the destruction of the socio-economic fabric, the weaknesses of the education system and the lack of quality vocational training opportunities. It is estimated that less than one in three young people are literate in reading and mathematics and that 44% of them are unemployed.
In addition to the numerous crises that have weakened the Central African education system, the COVID-19 crisis has exacerbated the precariousness of children and families. In August 2020, the national authorities decided to reopen schools, but this new context, marked by the coronavirus, creates new support needs for schoolchildren.
SOS in CAR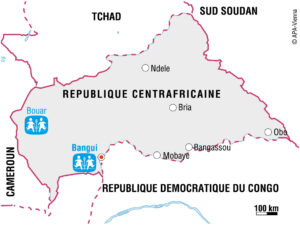 SOS Children's Villages began working in the Central African Republic in the early 1990s. Today, the local association supports Central African children and adolescents in two locations: Bouar and Bangui. It is in Bangui where our emergency programme takes place. In addition, the organisation runs an SOS family strengthening programme that works directly with families and communities to enable them to care for their children effectively and prevent separation.
In terms of emergency assistance, the organisation developed a first experience in 2014 to build resilience and empower vulnerable women and children affected by the crisis in Bossangoa and surrounding communities. The second phase of this emergency response programme was launched in July 2015 and covers three themes: protection, nutrition and education.
Aucun élément correspondant n'a été trouvé